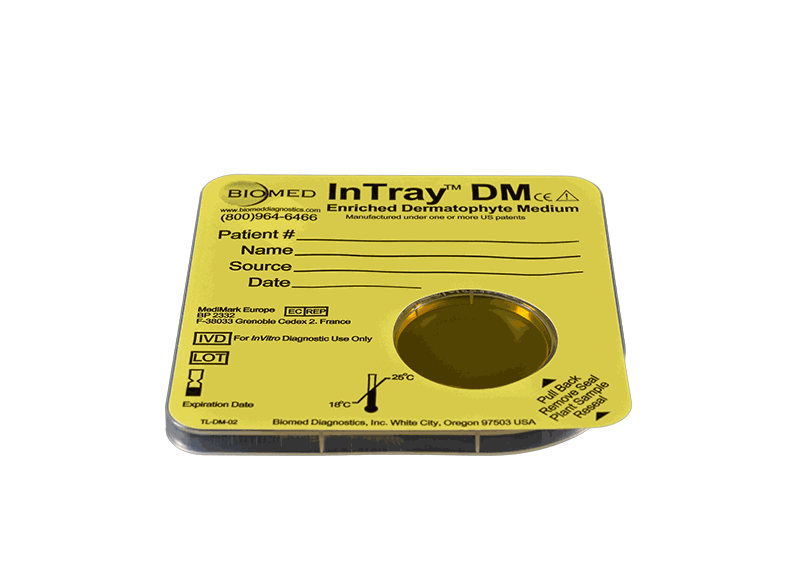 InTray® DM 20pk
---
InTray DM prepared culture media serves as a microbiology sample collection, transport, and culture device. Its enriched selective medium is formulated to produce distinctive colony growth from clinical specimens with mixed microbiota.
---
Principle
Combines collection, culture, result and microscopic observation in one IVD device.  

Highly selective prepared media in a device designed for in-vitro specimen transport and incubation.

Presumptive-positive diagnosis without re-plating. InTray can be placed directly on microscope stage.

Fully enclosed cassette with Tyvek® air filtration prevents contamination and exposure, post-collection.  
Convenience
InTray is designed for specimen collection/ inoculation at point-of-care

The sealed prepared media device is selectively formulated for accurate detection and identification of pathogens and non-pathogens 

Place directly on the microscope tray for observation through the cassette's clear anti-fog window

Selectively produces distinctive colony growth with typical identifiable morphology 
Storage
InTray DM expires 27 months from the date of manufacture.
Upon receipt, store InTray DM at 18-25°C. Avoid refrigeration, freezing or prolonged storage at  temperatures greater than 40°C. Do not use an InTray DM if the medium shows signs of deterioration or contamination.
T. mentogrophytes
ATCC:    9533
Result:    Growth
T. rubrum
ATCC:    28188
Result:    Growth
T. tonsurans
ATCC:    4683
Result:    Growth