InTray® SAB-FungID™ w/ CC 20pk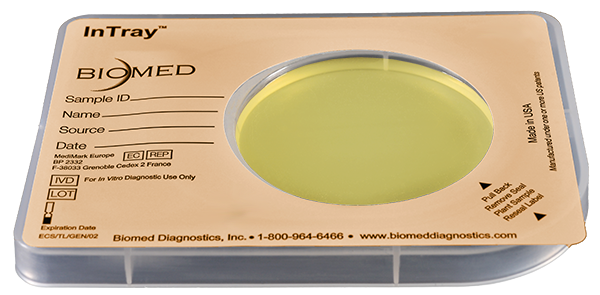 InTray® SAB-FungID™ w/ CC 20pk
---
Simplify your classical dermatophyte culture and microscopy methods with InTray's FungID device system. InTray SAB-FungID w/ CC enables simultaneous detection and observation of nine dermatophyte fungi – a specific group of fungi that cause common skin, nail and hair infections in both humans and animals. Dermatophytes are zoonotic, meaning they can be transmitted across species and generally made up of three genera: Microsporum, Epidermophyton and Tyichophyton.
InTray Features
Sabouraud's Dextrose Agar with Cycloheximide and Chloramphenicol
Storage
Can be stored at 2-25°C for 12 months from the date of manufacture. 


Streamline
Incorporates multiple processes into one device
IVD
For in vitro diagnostic use
QC Tested
This product has been tested and meets the CLSI (formerly NCCLS) Approved Standard for commercially prepared media (M22-A3).


Product Documentation
Instructions for Use, SDS, and Certificates of Analysis are available online. 




Strain Detection
| TEST STRAIN | ATCC # | RESULT |
| --- | --- | --- |
| T. mentagrophtytes | 9533 | Growth |
| T. rubrum | 28188 | Growth |
| C. albicans | 60193 | Growth |
| A. brasiliensis | 16404 | Inhibited |
| S. aureus | 25923 | Inhibited |
| E. coli | 25922 | Inhibited |