InTray® COLOREX™ KPC 20pk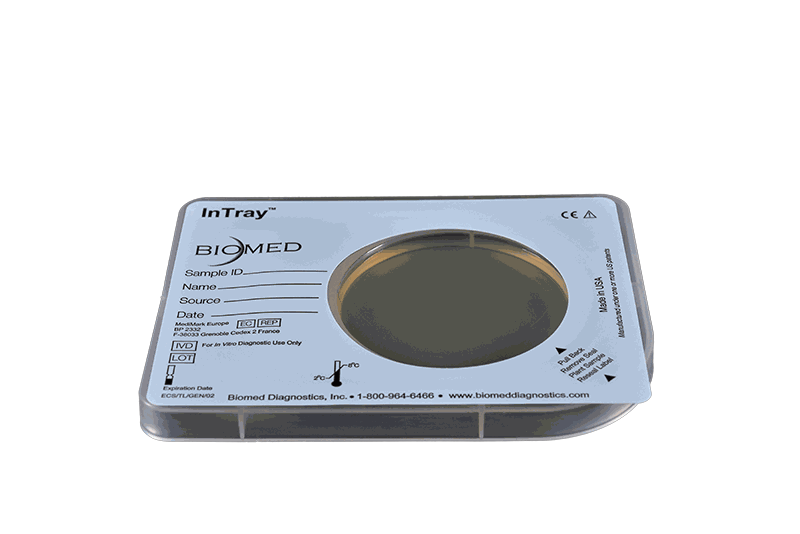 InTray® COLOREX™ KPC 20pk
---
Please note: This product is a custom pour, and not stocked regularly. Please call for more information. 

Designed for simultaneous growth, observation, and chromogenic differentiation of gram-negative bacteria expressing carbapenem class antimicrobial resistance, e.g. Klebsiella pneumonia, Escherichia coli, and Pseudomonas. Make your  preliminary detection easy with distinctive color differences between the growth of the selected species within as little as 18 – 24 hours. Additionally  COLOREX KPC inhibits the growth of yeasts, mold and fungi – resulting in 100% sensitivity and 98.4% selectivity for the growth of gram-negative bacteria expressing reduced susceptibility to carbapenem class antibiotics. 

Strain Detection
TEST STRAIN

ATCC #

APPEARANCE

Carbapenem

R

 
 

K. pneumoniae

BAA-1705

Metallic Blue

E. coli

BAA-196

Reddish / small

Psudeomonas
 

Cream to translucent green

Acinetobacter
 

Cream

Carapenem

S

 
 
K. pneumoniae
700603
Inhibited
 Specimen
Stool

Biological Fluids

Surface Streaks
 Important Notes
Colorex™ KPC is not intended for use in the identification of colonization with carbapenem-resistant bacteria to aid in the prevention and control of carbapenem-resistant bacteria in healthcare settings.

Colorex™ KPC is not intended to diagnose infections with carbapenem-resistant bacteria, guide or monitor treatment for infections, or provide susceptibility results to carbapenem. Sub-culture is necessary for bacterial identification and susceptibility testing.