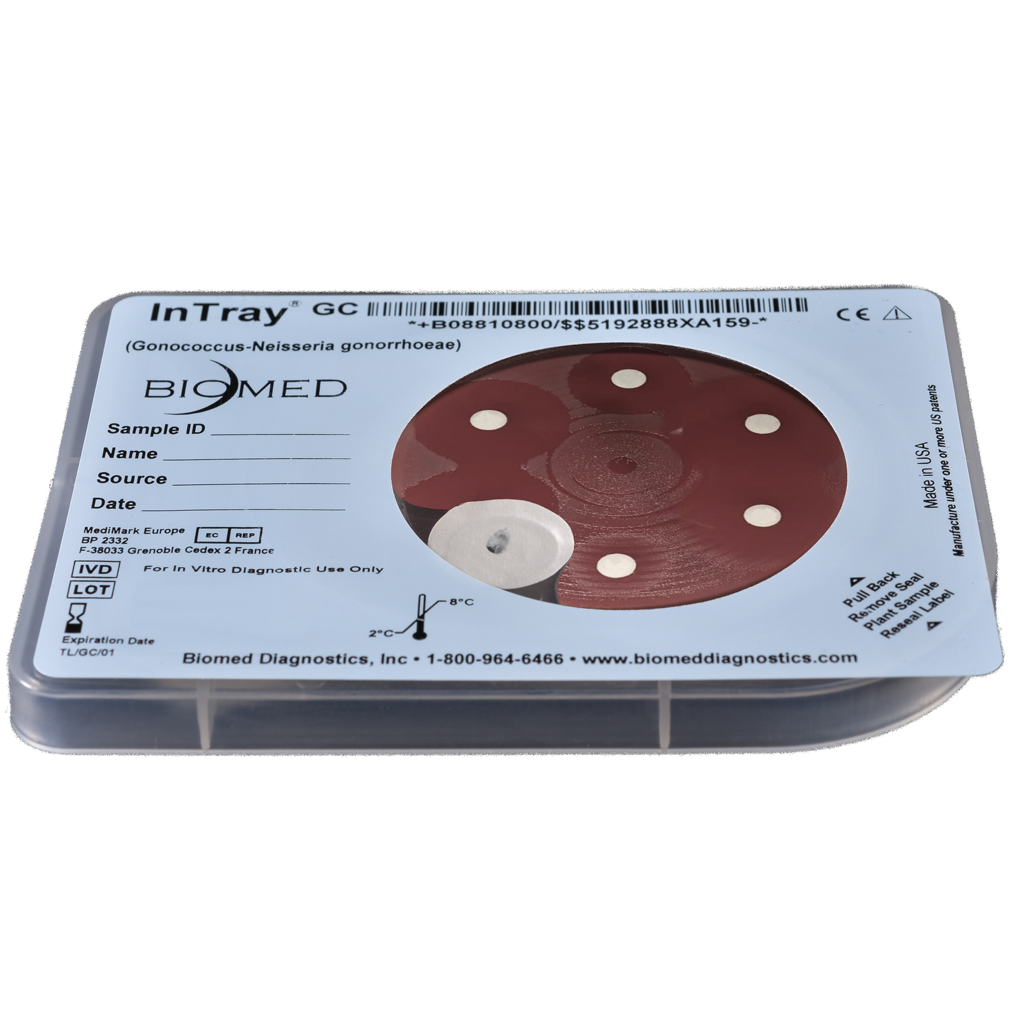 InTray® GC 20pk
---
Please note: A new IFU for InTray GC is available.
---
30-day money-back guarantee
Free Shipping in U.S.
Buy now, get in 2 days
Streamline your AMR with InTray GC
N. gonorrhoeae is a common sexually transmitted disease organism broadly disseminated throughout the world. InTray GC is a fully enclosed microbiology cassette, which enables sample collection, transport, culture and identification in a single device — simplifying diagnostic procedures and providing extended shelf life. The proprietary modified Thayer-Martin agar is selective for gonococcal bacteria. Results can be interpreted after 24-48 hours of incubation.
InTray GC is a single exposure culture system with dynamic built-in components and features that are designed for user compatibility and ease of detection.

The following are key highlights that come with this product:
Single exposure system

A "ready to start" 5% CO2 environment

Modified Thayer Martin medium, selective for GC 

Incubatory and transport capabilities

Extended 12 month shelf-life from the date of manufacture
Strain Detection
| | | |
| --- | --- | --- |
| Test Strain | ATCC # | Result |
| N. gonorhoeae | 43069 | Growth |
| N. meningitidis | 13090 | Growth |
| C. albicans | 60193 | Inhibited |
| E. Coli | 25922 | Inhibited |
| P. mirabilis | 43071 | Inhibited |
| S. epidermatis | 12228 | Inhibited |
| N. sicca | 9913 | Inhibited |
Specimen
Oral swab

Rectal swab

Genitourethral swabs
CPT Codes
87081  |  87088  |  87210
Regulatory
FDA Cleared

European CE IVD Mark
Shelf Life
12 months from the date of Manufacture
Storage
DO NOT FREEZE.
Refrigerated 2–8˚C storage is recommended for agar stability. However, InTray GC can tolerate extended periods at 2-25˚C, with no loss in performance, i.e. for transport, storage, etc.
Incubation
Incubate InTray GC flat to avoid moisture leaking into the CO2 pill chamber. Incubate the tray right side up for 24–48 hours at 37°C  under ambient atmosphere.
Limitations
InTray GC is not intended to diagnose Gonorrhoea infection or to guide or monitor treatment for infections. Confirmation of isolates by additional testing may be required. Other Neisseria and related ssp., e.g. N.cinerea, B. catarrhalis, and some strains of N. meningitides may grow on InTray GC medium.
InTray GC is an agar medium that is susceptible to condensation collection within the inner seal, especially when stored at low temperatures and/or having been exposed to extreme temperature fluctuations. If moisture is visible on the surface of the InTrays, dry them (with the seal removed and InTray label in a position allowing for air flow) under a BSL-2 cabinet just prior to inoculation. There should be no visible droplets of moisture on the surface of the agar when they are inoculated. The surface of the dried medium should be smooth and should not show signs (webbed ribbing pattern on the agar surface) of desiccation.